Object Zone is one of many object shows on youtube.The first episode was uploaded November 5th 2013.After December 28th 2013 it went on a hiatus and later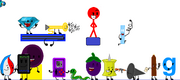 canceled.It was uncancled and returned on September 16th 2014.It is hosted by a red stickman named
Devin
.
Contestants
Chalk(Eliminated episode 3)
Energy Drink(Eliminated episodes 1 and 11)
G(Eliminated episode 4)
Gameboy(Eliminated episode 13)
Grape(1st Place)
Laser(Eliminated episode 12)
Mega Man(Eliminated episode 9,Debut episode 7)
Nail(Eliminated episode 10)
Planet(Eliminated episode 15)
Sapphire(Eliminated episode 6)
Snakey(Eliminated episode 15)
Tack(Eliminated episode 7)
Toothpaste(Eliminated episode 5,Rejoined episode 12,Second Place)
Toothpick(Eliminated episode 14)
Trombone(Eliminated episode 12)

Episodes
Hiatus
Elimination order
Elimination table
Place
contestant

cause of elimination

team

stage in game

17th
Energy Drink
Got the first vote,and then was targeted(rejoined episode 8)
Team Red
teams
16th
Chalk
Lost a randomized tiebreaker
Team Blue
15th
G
Was a letter,which seemed stupid
Team Red
14th
Toothpaste
Unknown Reason(Returns episode 12)
Team Red
13th
Sapphire
Unknown Reasons
Team Blue
12th
Tack
Unknown Reasons
Team Red
11th
Mega Man(Debuted episode 7)
Was a annoying debuter and lost tiebreaker
Team Red
10th
Nail
Was one of the two "mean" contestants
Team Blue
9th
Energy Drink(Again)
Lost the challenge for his team
Team Red
8th
Trombone
Started a fight and bit Planets leg off
Team Blue
7th
Laser
Unknown Reasons
Team Blue
6th
Game Boy
Was a overall mean contestant and threw a pokemon blue cartridge at Devin
Team Red
merge
5th
Toothpick
Was the only contestant to be captured before the challenge was cut off
Team Red
4th
Planet
Unknown
Team Blue
3rd
Snakey
Voted out by eliminated contestants
Team Blue
2nd
Toothpaste
Rejoined,so was less likely to win
Team Red
Runner-Up
1st
Grape
Was a fan favorite from the beginning
Team Red
Winner
Ad blocker interference detected!
Wikia is a free-to-use site that makes money from advertising. We have a modified experience for viewers using ad blockers

Wikia is not accessible if you've made further modifications. Remove the custom ad blocker rule(s) and the page will load as expected.